Bathing Tubs
Mastercare Entree Gen II Spa Tub

In today's competitive market, an Entrée spa will set your facility apart with no obstructions for entry due to self-storing door revealing cantilevered seat that allows you to bathe a wide variety of individuals utilizing existing lifts and stands.  Superior hygienic alternative to whirlpool or open-air systems as well as allowing for easy operation of all controls, and the tub drains quickly and diverts residual water.
Features:

---
MasterCare Integrity tub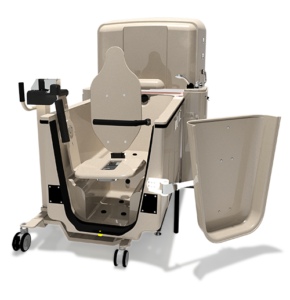 The MasterCare Integrity tub is a versatile system that can be used for daily hygiene for nearly all levels of care at your Elder Care or Resident Care community. It is a complete bathing system for all skills levels! The MasterCare Integrity Transporter can be used as a complete hygiene chair, in addition to being used in the Integrity bathing tub.
The Transporter features a revolutionary tilt-in-space chair design. There is a peri area opening and the transporter fits over a standard toilet. It comes standard with security belts, comfort pads, rated at 400 pounds; constructed of power-coated aluminum, gel coated fiberglass and composites – it is built for ease of maneuverability, cleaning and use! Available in white or tan.