Security Camera Solutions
Complete IP megapixel surveillance solutions include single- and multi-sensor MEGApix® cameras and edge recording systems, Blackjack™ NVRs and DW Spectrum™ IPVMS for server, mobile and on-camera control.
We offer a full range of security camera solutions.  Here are a few of the products we offer:
Indoor/Outdoor Vandal Dome IP Camera with IR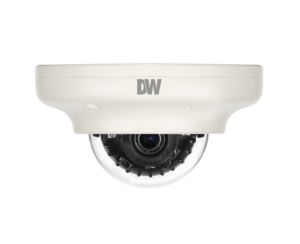 MEGApix® 2.1MP network cameras provide real-time 1080p High Definition video at 30fps. Advanced technologies include 50ft Smart IR™ and true Day/Night for clear images in challenging lighting conditions. A built-in Web-Server and user-friendly interface make these cameras easy to use. Power over Ethernet simplifies installation by providing both power and the network connection through a single cable.
---
MEGApix® 5 Megapixel Indoor/Outdoor Bullet IP Camera
These MEGApix® IP cameras deliver crystal-clear images at 5 Megapixel resolution at real-time 30fps. Features include Smart IR™, Smart DNR™ and WDR for quality video in challenging lighting environments. The weather resistant housing is easy to install and will Cold Start at -40º F/-40º C.
---
5 Megapixel 360° / 180° Fisheye IP Vandal Camera
5 Megapixel MEGApix® PANO 360° View Outdoor Fisheye Cameras with IR can monitor an entire area with a single camera, providing the ultimate ROI. The 1.55mm fisheye lens provides edge-to-edge image clarity. The 5MP sensor produces real-time 30fps panoramic images in an IP66 vandal resistant discrete housing. The camera is optimized for use with DW Spectrum™ IPVMS for easy dewarping to 360°, 180° and 90° views with the click of the mouse.
---
MEGApix® 4 Megapixel Varifocal Auto Focus Turret IP Camera with IR
This MEGApix® IP camera provides 4 megapixel resolution at up to realtime 30fps. The IP66-rated turret camera housing features a 360° camera gimbal for absolute view adjustment of the camera's auto focus lens. All MEGApix® cameras are ONVIF conformant, assuring their successful integration with any open platform solution on the market.
---
MEGApix® 4 Megapixel License Plate Recognition Bullet IP Camera
These MEGApix® LPR IP cameras deliver crystal-clear images at 4 Megapixel resolution and real-time 30fps. The cameras are engineered to capture license plates of moving vehicles in extreme light conditions, from ranges of up to 60' at up to 50mph. The IP66 weather resistant housing and Cold Start at -40º F/-40º C assure that license plates are captured clearly and visibly no matter the lighting challenge or weather condition.
---
Security Storage Options
Blackjack® CUBE-LX
The Blackjack® CUBE-LX can record and manage single-sensor IP cameras of any resolution, with an equivalent capacity of up to 16 2.1MP cameras at 30fps and a maximum of 80Mbps throughput. The hardware includes DVI-D/DVI-I outputs, Linux Ubuntu OS, and Dual Network Card. The NVR is ONVIF conformant and is available with 2-18TB HDD and 5 Year Limited Warranty.
VMAX IP Plus 16-Channel NVR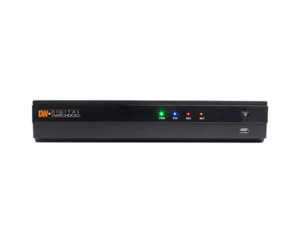 The VMAX® IP Plus™ is an easy to use to use PoE NVR that allows you to go from power up to monitoring in less than three minutes! The NVR offers unique features such as CCIP™ camera encryption and internal systems diagnostics, keeping your system healthy, secure and up to date. Combine with the DW Witness™ app to turn the camera on a smartphone or tablet into a surveillance camera that can be viewed and recorded on the NVR.
Available with 16 PoE ports, the NVRs can record and manage single-sensor IP cameras up to 5 Megapixel, with 80Mbps maximum throughput.